Studio
---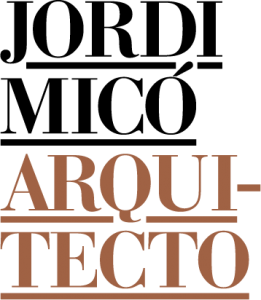 THE STUDIO
The Architecture studio is situated in Palma de Mallorca; there is another studio in Barcelona and one in Sofia, Bulgaria.
The studio in Mallorca consists of technical and administrative staff responsible for the entire development of the projects. The studio occupies the lower floors of two buildings in Gothic style, located in a spuare in the historic centre of Palma, facing the sea.
The Barcelona studio is mainly composed of students in the advanced courses of the Architecture School of Barcelona.
The studio in Sofia deals with real estate investment management, business consulting and development and management of renewable energy projects.
MY PROFILE
In June 1984, Jordi Micó obtains the title of Architect at the Higher Technical College of Architecture in Barcelona, supervised by Peter Hodkinson, an associate architect of Ricardo Bofill's "Taller de Arquitectura". At that time, Jordi Micó cooperates with the Taller de Arquitectura working on the Olympic Ring of Barcelona.
He then moves to Majorca to work with an architecture studio in an international limited contest. The studio of José Antonio Obregón González del Corral wins the first prize that means the development of the project. During five years he cooperates with this and another architecture studios, the studio of Emilio Nadal de Olives, with whom he works together, among other projects  the Hotel Melia – Cancun in Cancun, Mexico. In 1989 Jordi Micó opens his architectural studio.
Since then he works alone or in cooperation with other colleagues. He participates in various architectural contests, winning several awards and recognitions. Today he still works with students of the advanced courses at the Architecture School of Barcelona.
MY WORK
There is a first approach in Jordi Micó's projects: the access to the building and the solution of the internal circulation. Generally a powerful entrance axle is designed, determined by the characteristics of the plot and based on the axle the project is started to be developed.
The order of distribution, the hierarchy of spaces, its permeability, the creation of different applications, the adaptability to the place, the customer's requirements, the technical solutions, the accessibility, the capture of natural light and the dialogue between interior and exterior, shape the project.
The final language is defined by the creative activity, the client's desires and the historical environment or the protection of the landscape of the place.
The combination of all these factors leads to the final project.